What does a MSP Programme Management Leadership Strategy involve?
The MSP Programme Management Leadership team provides a bridge between the strategic objectives and the projects by leading and directing the MSP programme.
What makes up the MSP Programme Management Leadership team?
Generally, the MSP Programme Management Leadership team is made up of the members of the MSP Programme Board including the Senior Responsible Owner (SRO), Programme Manager and Business Change Manager.
What leadership activities are carried out by the MSP Programme Management Leadership team?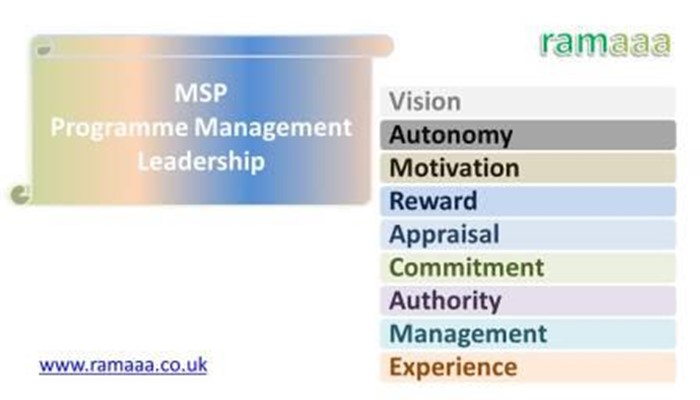 The MSP Programme Management Leadership team is fully responsible for MSP Programme Management The key activities and the principles for effective leadership of a programme are:
Demonstrate the ability to envision a better future by creating a Vision.
Communicate the Vision of the better future in compelling and convincing manner to all stakeholders.
Demonstrate the autonomy given to individuals to play their roles effectively, by the empowered decisions they make.
Design and operate effective motivation, reward and appraisal systems to foster the people's attitudes and energy to drive the programme.
Demonstrate visible commitment by ensuring the correct resources are always available to the MSP programme and focussing on the realisation of business benefits.
Demonstrate visible authority by influencing and engaging actively with stakeholders and balancing the programme's priorities with those of the ongoing business operations.
Demonstrate the much needed management skills and experience in relation to:
the cultural and people issues involved in change,
the finances and resources and the conflicting demands on these,
the coordination of the projects before, during and after transition to operation,
maintaining the business as usual operations always with minimum interruption, and
all aspects of risk management like identification, evaluation and response.
MSP Programme Management Leadership | Ramaaa Consultants Limited | Manoj Gajavelli MSP | Experts in MSP Programme Management | Specialists in Training and Consulting.